India is ranked third with 72 unicorns (companies with a valuation of $1 billion and above), after the US…reports Asian Lite News
The number of unicorns in India has been reduced to 72 with a total valuation of $195.75 billion, from over 100 unicorns last year, according to a new report.
India is ranked third with 72 unicorns (companies with a valuation of $1 billion and above), after the US (668) and China (172), according to the report from Forex.com, via data obtained and analysed from CB Insights.
Despite a lower average valuation per unicorn at $2.72 billion compared to some counterparts, India's unicorns make a substantial 5 per cent contribution to the total global unicorn valuation.
This places India in league with the UK, emphasising its significance in the international startup arena, the report mentioned.
The US has the highest number of unicorn companies worldwide with an impressive 668 — over three times more than China in second place (172).
Unicorn companies in the US have a combined valuation of over $2 trillion, accounting for over half (54 per cent) of the total valuation of unicorn companies.
The research commissioned by Forex.com also revealed that the enterprise tech industry dominates unicorn companies globally, boasting a total of 377 with a combined valuation of just over $1 trillion.
The highest-valued company within the enterprise tech sector is Canva, with an impressive valuation of $40 billion. Canva has the fifth highest valuation out of all global unicorn companies.
Enterprise tech is projected to remain its position as a leading industry, surpassing growth and total valuation projections by 2027.
Within the financial services sector, 216 companies boast a combined valuation of $706 billion. Stripe claims the title for the highest-valued company within financial services valued at $50 billion and ranks fourth overall.
Despite having the same number of unicorn companies, those in the financial services industry have a 10 per cent higher total valuation than the consumer and retail industry. The consumer and retail industry ranks third (216), with a collective valuation of over $631 billion.
The unicorn with the highest valuation within this industry is Shein, valued at $66 billion, ranking third globally. Shein is valued at $8.17 billion higher than the combined valuation of all 27 unicorn companies in the insurance industry ($57.83 billion), the report mentioned.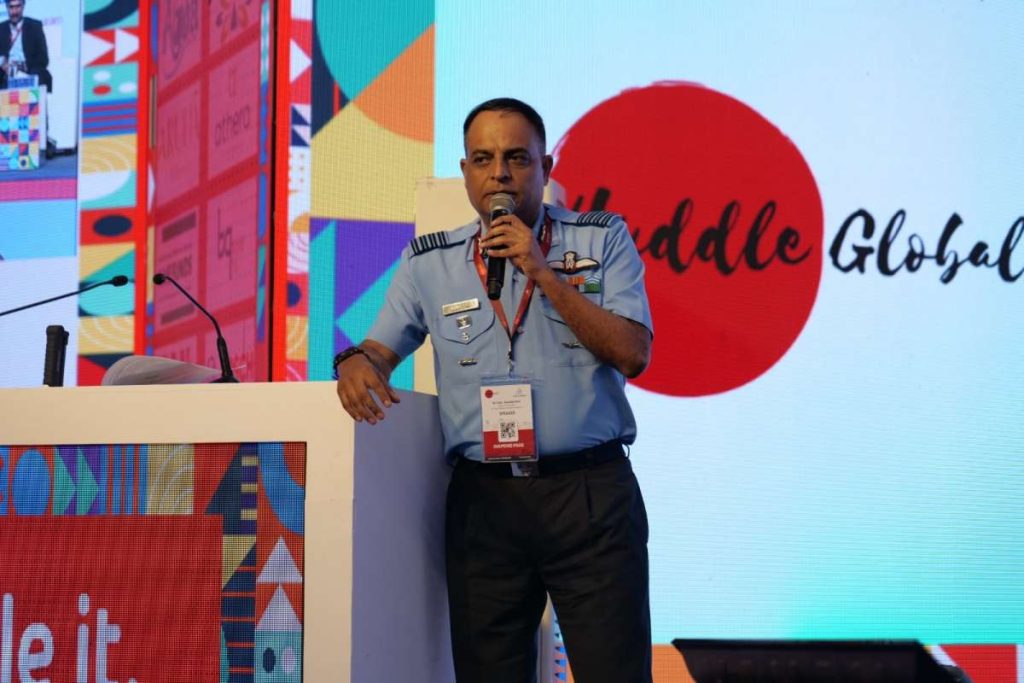 Kerala Startups Miss Defense Wave
Kerala-based startups are yet to take full advantage of immense opportunities in defence and aerospace sectors, which have gone up manifold after the launch of 'Atmanirbhar Bharat' initiatives, panelists said at a session at Huddle Global 2023.
Col Sanjeev Nair (Retd), CEO, Technopark, noted that homespun startups of Kerala have not leveraged the opportunities thrown up by the iDEX scheme, which was launched by Ministry of Defence (MOD) to promote, support and onboard innovative solutions in this critical sector.
A flagship scheme of MOD, iDEX is funded and managed by Defence Innovation Organisation (DIO) to create an ecosystem to foster innovation and technology development in defence and aerospace by engaging industries, including MSMEs, startups, individual innovators, R&D institutes and academia.
"The scheme is backed by grants and various other supports. The number of Kerala startups that have taken advantage of this flagship project, however, is very less," said the now retired Colonel.
Group Captain Saurabh Shiv of the Indian Air Force (IAF) said with the country pursuing a pro-active approach to achieve self-reliance in critical domains, startups can take the best advantage of the entire ecosystem that has been created to acquire innovative solutions and technologies in the defence sector.
"IAF, for instance, is looking for indigenously developed solutions that will enhance self-reliance and capacity. Challenge is available, funding is available. The ball is in your court. Please rise up," he said exhorting the nascent companies to dabble into the defence sector.
Rajaguru Nathan K, Director, Astromedia Space Pvt Ltd, recalled his company's journey with iDEX scheme after starting off as a space-medicine startup.