The traditional Holi spread has long been ruled by thick, creamy, and absolutely delightful Thandai…writes Olivia Sarkar

ROSE NARIYAL THANDAI

Ingredients:

3/4 oz coconut liqueur

2 cups coconut milk

shredded coconut, rose petals, rose water

2 tablespoons of sugar

skinned almonds and cashews

green cardamom, fennel seeds, black peppercorns, coriander seeds

Method:

Soak dry fruits and seeds in rose water for two days prior to preparing this drink

Grind into a fine paste and add in rose petals, desiccated coconut, saffron, and cardamom

Muddle the paste with coconut milk, or use a blender

Shake the syrup with coconut liqueur and ice

Serve it cool with rose petals and coconut flakes


ICE TEA THANDAI

Ingredients:

7 Ground white pepper (Kali mirch)

1 Assam Tea Bags

1/4 cup Almonds (badam) – coarsley crushed

2 tsp Poppy seeds (khus-khus)

1 tsp Fennel seeds (saunf) (crushed coarsely)

1/2 tsp Cardamom (elaichi) powder

Ground sugar

A few Saffron (kesar) strands

Method:

Heat water in a flask and add some Assam tea bags to infuse its flavour in water.

Add 1/4 cup almonds, Khus-Khus, fennel seeds and cardamom in the mixture.

Top it up with kali mirch and ground sugar to taste.

Cool it in the refrigerator, add lot of ice and serve strained.

Place few saffron strands over the drink for flavour and colour. Serve

ALMOND MILK THANDAI

Ingredients:

For the powder mix:

1/2 tsp of cardamom powder or 2-3 green cardamom (elaichi)

2 tsp of poppy seeds (khus khus)

1 tsp of fennel seeds (saunf)

5-6 black peppercorns (kali mirch)

3/4 tsp saffron (kesar) – optional

1 tsp roasted watermelon seeds or sunflower seeds

A pinch of nutmeg – optional

For the drink:

4 cups of almond milk

Seedless Dates/Raw Sugar/Palm Sugar to taste

For garnishing:

Chopped Pistachios

Silver Leaves

Pinch of Saffron

Method:

Take all the ingredients in a grinder and grind really fine.

For a larger batch of the spice mix, dry grind and keep in an airtight container, refrigerated for a few days. You can also alter the quantities to suit your personal taste and preference.

Boil the milk with whichever sugar you are using and few strands of saffron (if using).

Add the ground powder and mix it well. Add more water if needed to get the desired consistency.

Strain the mixture to remove any particles to make a smooth Milk.

Cool and let it refrigerate for a minimum of one hour or even overnight to let the spices infuse in the drink.

Give it a mix before serving. Garnish and serve. If you have rose water or dried crushed rose petals, add some to taste.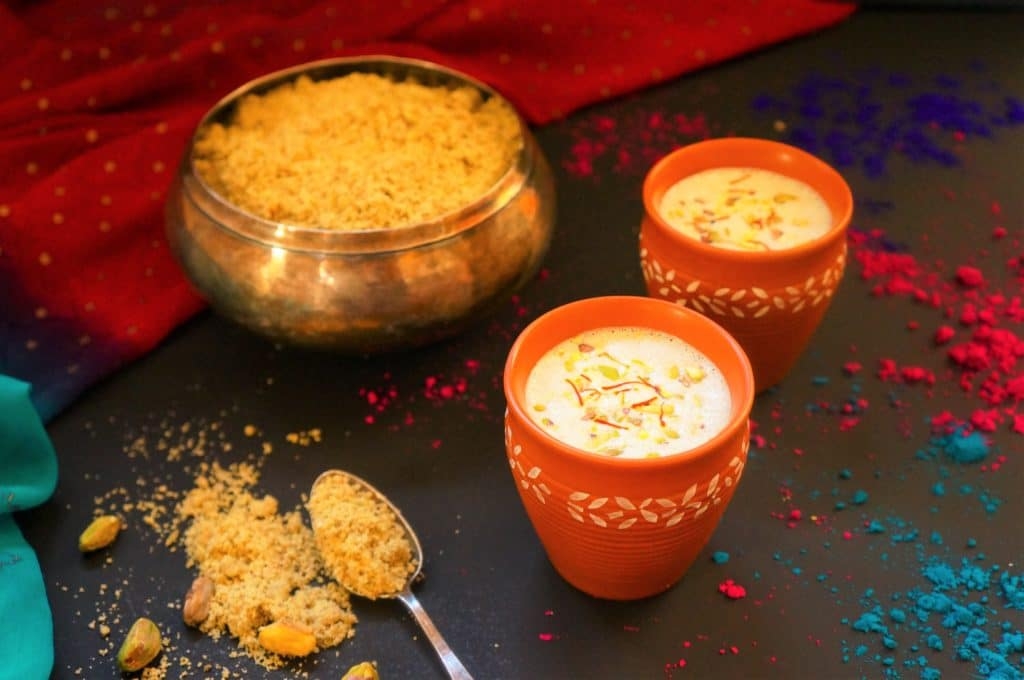 GUAVA THANDAI

Ingredients:

1 1/2 Cup milk

4 tbsp thandai mixture

1 full pack guava juice

Ice cubes

Method:

Pour the thandai mixture in a jar.

Add some milk and a full pack of guava juice.

Put some ice cubes, give it a nice stir.

Serve chilled!
ALSO READ-Coolest dining destination in Goa