Braverman claimed police had applied a "double standard" to protesters, in an article for the Times newspaper…reports Asian Lite News
A day after being sacked as UK's Home Secretary, Suella Braverman burst out fiercely at Prime Minister Rishi Sunak, accusing him of "betrayal" by failing to keep his promises over controlling illegal immigration, or responding aptly to "extremism on the streets".
"Your plan is not working," she said in a searing letter to her fellow Indian-origin leader.
"Either your distinctive style of government means you are incapable of doing so.
"Or, as I must surely conclude now, you never had any intention of keeping your promises," the controversial right-wing leader said in the letter, the BBC reported.
"Someone needs to be honest: your plan is not working, we have endured record election defeats, your resets have failed and we are running out of time. You need to change course urgently."
Braverman accused Sunak of betraying his pledge to do "whatever it takes" to stop small boats crossing the Channel – which, she said, was among her conditions to take the post in October last year.
Following her sacking on Monday, Foreign Secretary James Cleverly was moved to the Home Office, while former Prime Minister David Cameron, making a political comeback, stepped into his role.
A No 10 spokesman thanked Braverman for her service, but added: "The Prime Minister was proud to appoint a strong, united team yesterday focused on delivering for the British people."
The immediate trigger for her removal was accusations pf her of stoking tensions ahead of pro-Palestinian marches in London, against the backdrop of the Israel-Hamas war.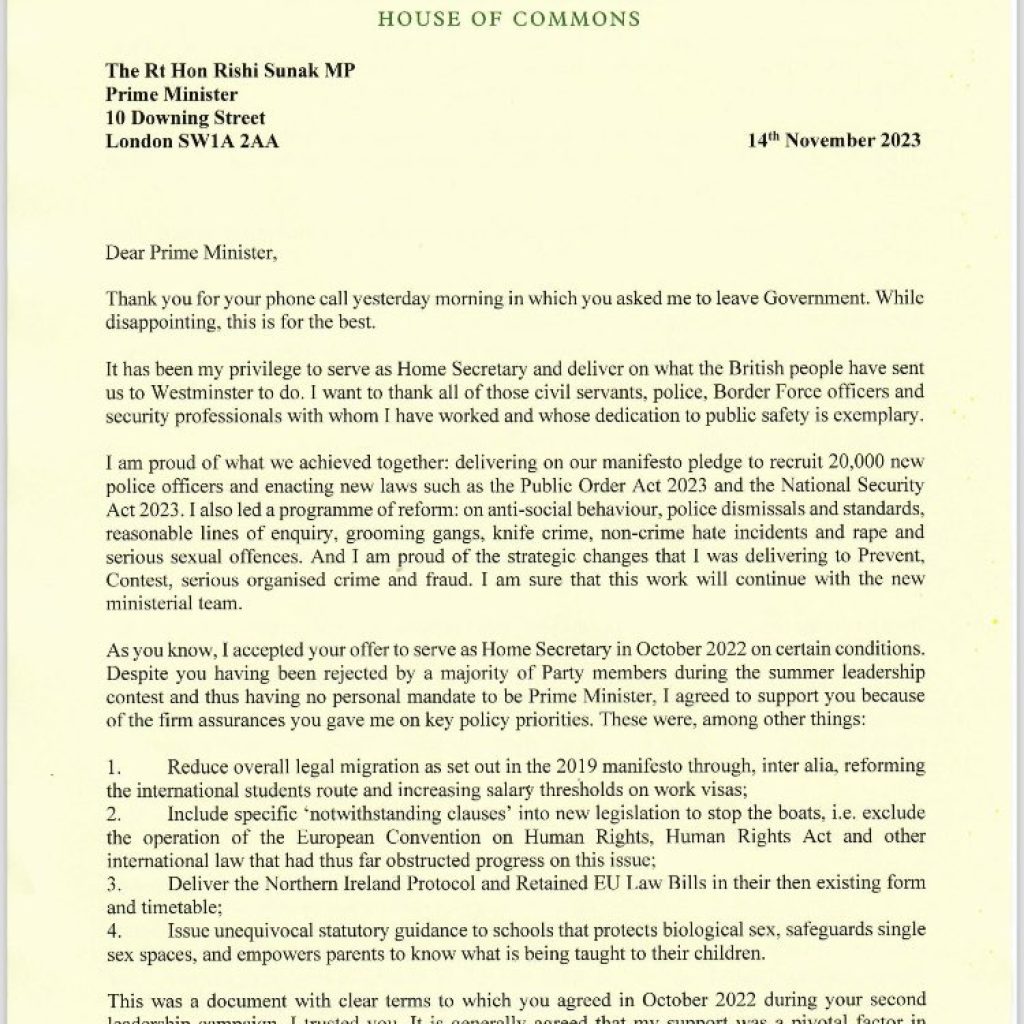 Braverman claimed police had applied a "double standard" to protesters, in an article for the Times newspaper.
In her letter, she also accused Sunak of failing "to rise to the challenge posed by the increasingly vicious antisemitism and extremism displayed on our streets".
"I have become hoarse urging you to consider legislation to ban the hate marches and help stem the rising tide of racism, intimidation and terrorist glorification threatening community cohesion," she added, accusing the PM of putting off "tough decisions in order to minimise political risk to yourself".