Home Secretary Suella Braverman set to tell the UN that politicians need to question if the 1951 Refugee Convention was "fit for the modern age"…reports Asian Lite News
Politicians need to question if the UN's 1951 Refugee Convention is "fit for our modern age", Suella Braverman is expected to say in a speech. Addressing a think tank in Washington DC, the home secretary will describe the convention as an "incredible achievement of its age".
But she will also argue that shifts in interpretation has led to increased numbers being defined as refugees. Labour accused her of having "given up on fixing" the asylum system.
"Now she's resorting to grandstanding abroad and looking for anyone else to blame," said shadow home secretary Yvette Cooper. The Refugee Convention was drawn up following World War Two which saw millions displaced from their homes.
Its main principle states that refugees should not be returned to countries where they face threats to life or freedom. The home secretary will tell an audience at the American Enterprises Institute that it is 70 years since the convention was agreed and "we now live in a completely different time."
"Let me be clear, there are vast swathes of the world where it is extremely difficult to be gay, or to be a woman. Where individuals are being persecuted, it is right that we offer sanctuary. "But we will not be able to sustain an asylum system if in effect, simply being gay, or a woman, and fearful of discrimination in your country of origin is sufficient to qualify for protection. The status quo, where people are able to travel through multiple safe countries, and even reside in safe countries for years, while they pick their preferred destination to claim asylum, is absurd and unsustainable."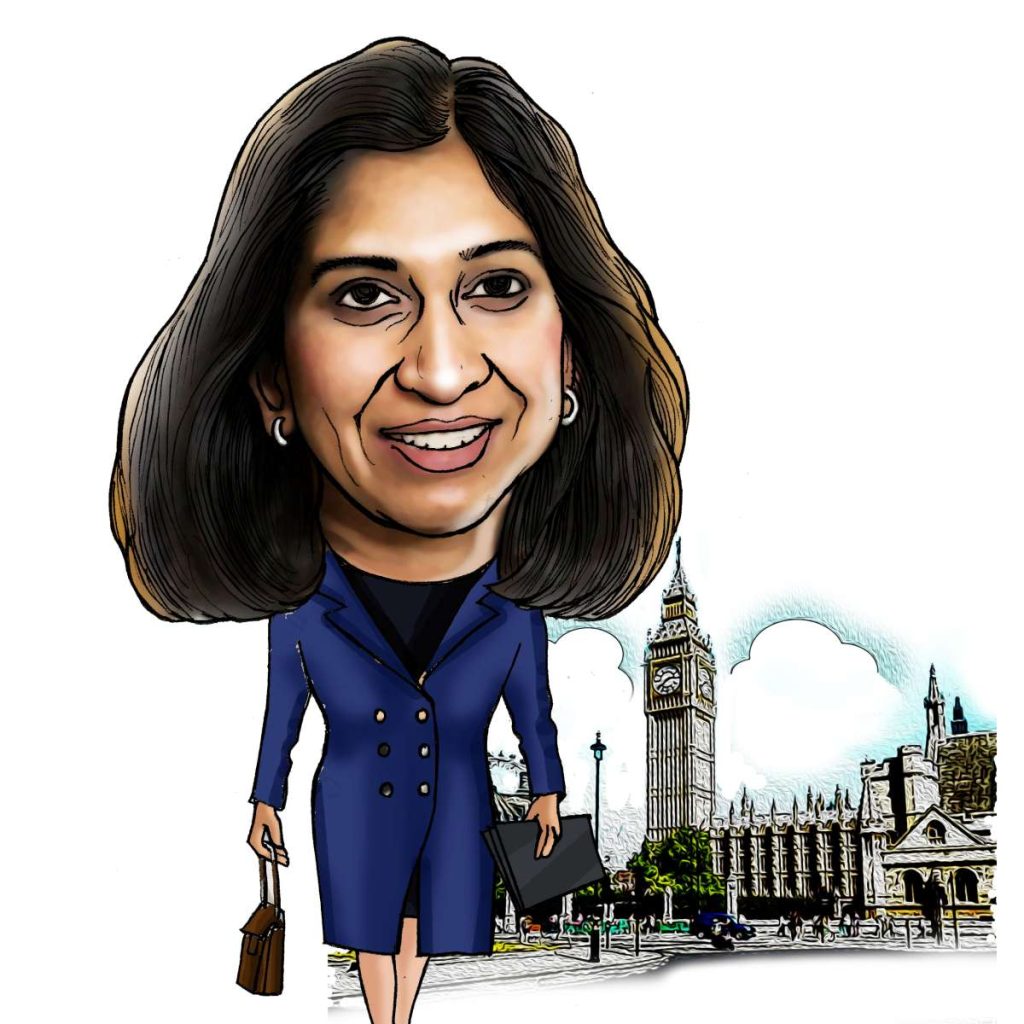 The home secretary's speech comes as the government prepares for a Supreme Court hearing on whether its plan for tackling small boat crossings is legal.
The government wants to send those who come into the UK illegally to Rwanda or a third country – however the scheme has been blocked by legal challenges.
The United Nations High Commissioner for Refugees (UNHCR) has strongly criticised the plan arguing it would "deny protection" to genuine refugees and was a "clear breach" of the Refugee Convention.
Responding to Braverman's speech, the Refugee Council charity said the UK should be "addressing the real issues in the asylum system, such as the record backlog, and providing safe routes for those in need of protection" rather than tearing up agreements.
However, Alp Mehmet from the Migration Watch UK campaign group said the home secretary was right to "call out the conventions" and said the UK should withdraw from the Refugee Convention if reforms were not made.
Barrister and campaigner for refugee rights Colin Yeo said, "It took decades for various countries to sign up to the convention – negotiating a replacement with international buy-in just isn't going to happen."
Previously, Braverman clarified that she would do "whatever it takes" to transfer the asylum seekers to Rwanda, a plan which has been blocked by the courts.
Her trip to the US and the speech delivered will be seen as evidence of her positioning herself as a potential leadership candidate in the Tory party.
Chief executive of the Refugee Council Enver Solomon has said that the attacks on the ECHR went against the historic support of Britain for such treaties. "Our nation has long demonstrated a deep commitment to providing sanctuary to those fleeing persecution and conflict," he said.
"This proud legacy is a testament to our values of compassion, empathy and solidarity. Abandoning these principles is not an option; we must stand firm in our commitment to refugees and to the international frameworks that were created to protect them," he added.
"What we need is a fair process for people who come here in search of safety and protection. Instead of threatening to abandon the frameworks and conventions that protect refugees' rights, we should be addressing the real issues in the asylum system, such as the record backlog, and providing safe routes for those in need of protection, including refugee visas, resettlement and family reunion schemes," he further stated.
Braverman, who belongs to an Indian immigrant family, will be in the US at a time when the Biden administration witnesses a spike in border crossings. Scores of people have poured into cities like New York, leaving services overwhelmed. Her visit also comes amid British Prime Minister Rishi Sunak's goal of "stopping the boats", i.e. the arrival of migrants from Europe through small and often unsafe vessels.
ALSO READ-Over 1200 Afghan Refugees Return To Kabul From Pakistan