The police fired tear gas shells to disperse the demonstrators but to no avail as the law enforcers retreated….reports Asian Lite News
Supporters of Pakistan Tehreek-e-Insaf (PTI) headed to the army installations in many parts of the country on Tuesday as the law and order situation continued to deteriorate following the arrest of Imran Khan, media reports said.
Videos emerged on social media soon after former Prime Minister and PTI Chairman Imran Khan was arrested from outside the Islamabad High Court (IHC) on Tuesday, Samaa TV reported.
The clips showed charged PTI activists raising slogans against the government as well as the Pakistan Army, the report said.
The baton-wielding demonstrators reached inside the General Headquarters (GHQ) of the Pakistan Army in Rawalpindi, Samaa TV reported.
In other videos, they could be seen vandalising army properties in different cities, including Lahore and Karachi.
The police fired tear gas shells to disperse the demonstrators but to no avail as the law enforcers retreated.
There are reports of PTI supporters breaking into the residence of a military officer in the cantonment area in Lahore, Dawn reported.
Journalist Murtaza Ali Shah shared this information in a tweet, saying, "PTI supporters break into military officer's house in Lahore Cantt."
He also shared a video showing a group of men, some of them with their faces partly covered, entering a gated premises with sticks. They were later seen using the sticks to hit walls, Dawn reported.
Men in uniform could also be seen on the premise.
Meanwhile, PTI workers from Khyber Pakhtunkhwa gathered on the streets of Lakki Marwat district under the leadership of provincial party president Muhammad Iqbal after the arrest of Khan.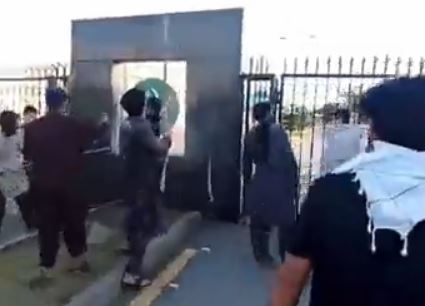 The PTI supporters resorted to burning tyres and closed down the Indus Highway.
After Khan's arrest, PTI had called for protests across Pakistan following which roads were blocked on the main thoroughfares in the major cities, including Karachi.
PTI Vice Chairman Shah Mahmood Qureshi reiterated the party's call for "peaceful protest", following the arrest of Khan.
In a video message shared on PTI's Twitter habdle, Qureshi could be heard urging the people to "protest peacefully and express solidarity with PTI Chairman Imran Khan".
Qureshi said he was leaving for Islamabad where he had called a meeting of the PTI leadership and a six-member committee to determine the next course of action, Dawn reported.
Qureshi said, "In my view, the plan to hold a series of rallies earlier announced by Imran Khan Sahib still holds. We have to convert them into rallies of peaceful protests."