Ukraine vowed on Saturday to prevail against Moscow as it fought Russian assaults near a key eastern city and multiple locations came under shell and missile attack….reports Asian Lite News
Russia's war in Ukraine could take years, NATO Secretary General Jens Stoltenberg told a German weekly newspaper, adding that the supply of state-of-the-art weaponry to Ukrainian troops would increase the chance of liberating the Donbas region from Russian control.
"We must prepare for the fact that it could take years. We must not let up in supporting Ukraine," Stoltenberg told Bild am Sonntag. "Even if the costs are high, not only for military support, also because of rising energy and food prices."
A NATO summit in Madrid later this month is expected to agree an assistance package for Ukraine that will help the country with the move from old Soviet-era weaponry to NATO standard gear, Stoltenberg said earlier this week.
Ukraine vowed on Saturday to prevail against Moscow as it fought Russian assaults near a key eastern city and multiple locations came under shell and missile attack.
Russian forces were defeated in an attempt to storm Ukraine's capital Kyiv in March. Russia has since refocused on the Donbas region in the eastern part of Ukraine.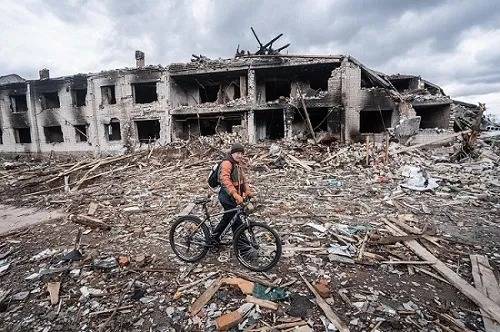 Russia putting world in danger of famine, warns EU
Russia is putting the world at risk of famine through its blockade of Ukraine's shipments of grains and restrictions on its own exports, EU foreign policy chief Josep Borrell said on Saturday.
The threat to food security and a "battle of narrative" with Russia on Western-imposed sanctions on Moscow over Ukraine will dominate European Union foreign ministers' talks in Luxembourg on Monday.
"We are ready to work with the UN and our partners to prevent any unwanted impact on global food security," Borrell said in an article published on his official blog.
"Russia's conscious political choice is to 'weaponise'" grain exports and "use them as a tool for blackmail against anyone that opposes its aggression" in Ukraine, Borrell said.
"Russia turned the Black Sea into a warzone, blocking shipments of grain and fertiliser from Ukraine but also affecting Russian merchant shipping. Russia is also applying quotas and taxes on its grain exports," he added.
The sanctions imposed by the EU "do not prohibit Russia to export any agricultural goods, payment for such Russian exports or the provision of seeds, provided that sanctioned individuals or entities are not involved".
"We are fully aware that there is a 'battle of narratives' around this issue" of sanctions, Borrell continued. He added that it was imperative that Ukrainian exports be allowed to resume by ship.
"We are working closely with the UN on this issue and the EU and its member states are ready to do their part of the necessary actions to achieve this.
"We hope that a solution can be found in the coming days. Not doing this threatens to cause a global food catastrophe," he warned.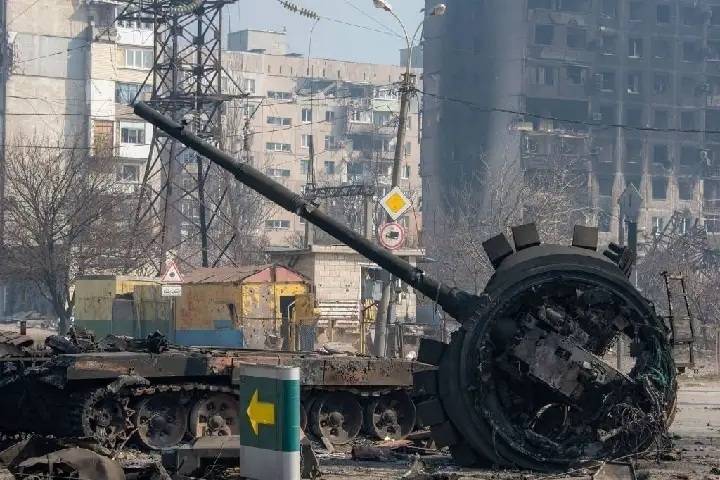 39 ships from 14 countries blocked in Odesa
A top Ukrainian official confirmed that 39 civilian ships sailing under the flags of 14 countries are currently blocked in the ports of Odesa as a result of the ongoing war.
The news was confirmed by Maksym Marchenko, head of the Odesa Oblast Military Administration, during a meeting with President Volodymyr Zelensky in the southern port city on Saturday, reports Ukrayinska Pravda.
During the meeting, discussions also took place on ways to organise a corridor for the export of agrarian and industrial products from the ports.
Marchenko also informed the President on the consequences of missile strikes by the Russian forces on the city.
According to reports, 55 people were killed in Odesa due to Russian shelling which also destroyed and damaged a number of infrastructure facilities.
Despite the grim developments, Marchenko expressed confidence in "solving the difficult issues with the help of the head of the country" and in "de-blockading our ports and ensuring they can resume their operations".
This was Zelensky's first trip to Ukraine's war-torn southern frontline, as his forces mount a slow-moving advance in the region, reports the BBC.
During a separate meeting with troops stationed in Odesa, he said: "It is important that you are alive. As long as you live there is a strong Ukrainian wall that protects our country. I want to thank you from the people of Ukraine, from our state for the great work you are doing, for your impeccable service."
The President also visited Mykolaiv, about 132 km from Odesa, where he handed out medals to soldiers and urged them to "take care of Ukraine, the only thing we have. And take care of yourself, only you can do it".
The city has long been a key target for Russian forces and has been subject to heavy rocket and artillery bombardments.
It also lies just 100 km north-west of Kherson, a city that fell to the Russian forces during the early days of the war.