President says Gorbachev's belief in "glasnost" (openness) and "perestroika" (restructuring) weren't mere slogans, but a forward-looking path for the people of the Soviet Union who were isolated and deprived…reports Asian Lite News
World leaders including President Joe Biden and Russian President Vladimir Putin paid tribute to Mikhail Gorbachev, the last leader of the Soviet Union, following Gorbachev's death Tuesday.
In a statement that called Gorbachev "a man of remarkable vision" and "a rare leader," Biden reflected on a 2009 meeting with the former Soviet president in the White House.
"It was easy to understand why so many worldwide held him in such high esteem," Biden said. Biden praised Gorbachev's democratic reforms, crediting him with fostering "a safer world and greater freedom for millions."
Biden went on to say that Gorbachev believed in "glasnost" (openness) and "perestroika" (restructuring), not as mere slogans, but as the way forward for the people of the Soviet Union after so many years of isolation and deprivation.
The Cold War had already lasted for nearly 40 years when Gorbachev came to power, Biden continued, adding that only a few high-ranking Soviet officials had had the courage to admit that things needed to change.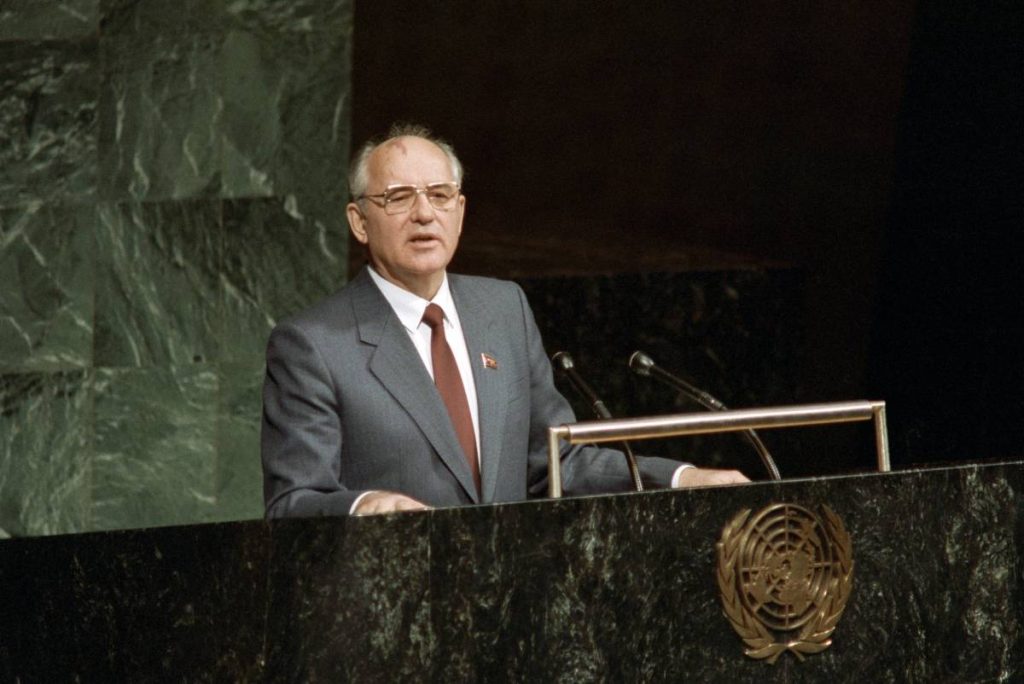 As a member of the Senate Foreign Relations Committee, Biden said he had witnessed Gorbachev do this and more.
"As leader of the USSR, he worked with President (Ronald) Reagan to reduce our two countries' nuclear arsenals, to the relief of people worldwide praying for an end to the nuclear arms race."
Even years after leaving office, Gorbachev was still deeply engaged, Biden added, recalling a 2009 visit the former Soviet leader made to the White House during which the two had spoken at length about how to reduce US and Russian nuclear stockpiles.
"It was easy to see why so many worldwide held him in such high esteem," the President concluded.
Gorbachev, the Nobel Peace laureate and the leader of the Soviet Union, died on Tuesday evening "after a serious and long illness".
The statesman is to be buried next to his wife in Moscow's Novodevichy Cemetery, the burial place of many of Russia's most famous politicians, writers and composers.
Meanwhile, Putin expressed condolences following Gorbachev's death, according to a statement reportedly sent to Russian news agency Interfax. Gorbachev oversaw the end of the Cold War, and subsequently, the Soviet Union. He died Tuesday at 91.
The leaders ideologically disagreed during Putin's tenure. Gorbachev, who had opened up Soviet society after decades of repression, wrote explicitly of "costs" associated with Putin's "authoritarian" actions for Time in 2017.
For his part, Putin, who was serving in the KGB in East Germany during Gorbachev's time as leader, made it clear over the years that he saw the dissolution of the Soviet Union and the collapse of the Eastern bloc in Europe as humiliating to Russia.
Western leaders saluted Gorbachev for his achievements.
Other leaders also contrasted Putin with Gorbachev in their condolence messages. Sen. Patrick Leahy (D-Vt.), who met Gorbachev both in Russia and the United States, described him as "a bold leader who was unafraid to confront reality."
Gorbachev "would never be the war criminal that Putin is," Leahy said.
Sen. Jeanne Shaheen (D-N.H.) said Gorbachev's "absence has loomed large amid Putin's bloody, unprovoked war in Ukraine."
On Twitter following his death, she paid tribute not only to Gorbachev's loved ones, but also to pro-democracy Russian opposition leaders including Alexei Navalny.
Elsewhere in the United States, Rep. Dean Phillips (D-Minn.), recalled stopping his car on the Minneapolis interstate in 1990, as Gorbachev's motorcade passed.
"A new, more peaceful and promising world seemed to be on the horizon," Phillips said. "I mourn his passing and his courage, as I do the country he tried so hard to reform."
Former Secretary of State James Baker III, one of the last surviving world leaders from the Gorbachev era, told Reuters: "History will remember Mikhail Gorbachev as a giant who steered his great nation towards democracy. He played the critical role in a peaceful conclusion of the Cold War by his decision against using force to hold the empire together."
In a statement on Twitter, the Reagan Institute described Gorbachev as "a man who once was a political adversary of Ronald Reagan's who ended up becoming a friend."