Japan scrambled military jets 1,004 times in the past year to March, the second-highest on record, according to the defence ministry….reports Asian Lite News
Chinese and Russian fighter jets carried out joint flights near Japan on Tuesday as leaders of the Quad bloc met in Tokyo, the Japanese defence minister said.
Nobuo Kishi said the government had expressed "grave concerns" to Russia and China over the flights, which took place while leaders from the United States, India, Australia and Japan held talks on regional security.
The planes did not breach territorial airspace, the defence ministry told AFP, and it is the fourth time since November that long-distance joint flights by Russia and China have been spotted near Japan.
"Two Chinese bombers joined two Russian bombers in the Sea of Japan and made a joint flight to the East China Sea," Kishi told reporters.
"After that, a total of four aircraft, two presumed (new) Chinese bombers — which replaced the two Chinese bombers — and two Russian bombers, conducted a joint flight from the East China Sea to the Pacific Ocean."
He said a Russian intelligence-gathering aircraft also flew off northern Hokkaido to the Noto Peninsula in central Japan on Tuesday, calling the moves especially "provocative" given the summit in Tokyo.
The Quad leaders on Tuesday warned against attempts to "change the status quo by force", although they avoided direct references to Russia or China in a joint statement.
Their statement referred to the war in Ukraine, however, and listed a range of activities that Beijing has regularly been accused of in the region.
Kishi said Japan had "communicated through diplomatic routes our grave concerns from the perspective of our country's and the region's security".
"As the international community responds to Russia's aggression against Ukraine, the fact that China took such action in collaboration with Russia, which is the aggressor, is cause for concern. It cannot be overlooked."
Japan, which has volatile ties and border disputes with its neighbours China, Russia and South Korea, routinely sends jets to defend its air borders.
The country scrambled military jets 1,004 times in the past year to March, the second-highest on record, according to the defence ministry.
Most were to counter approaching Chinese aircraft, although many of the rest involved Russian aircraft.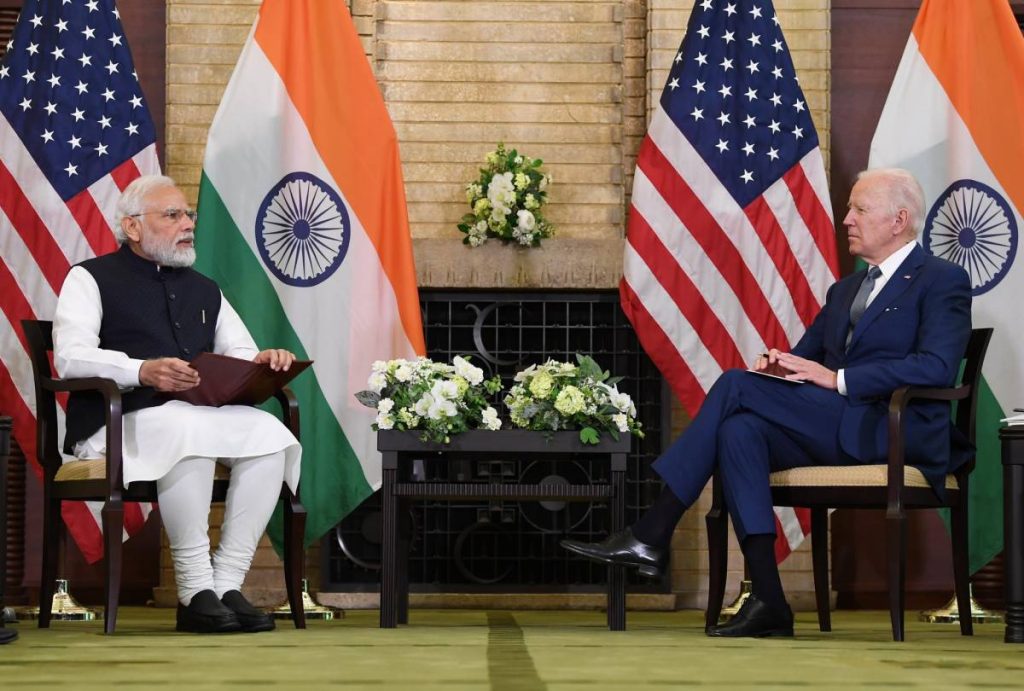 Modi, Biden hold talks
India's Prime Minister Narendra Modi met President Joe Biden in Tokyo today shortly after holding the Quad Leaders' Summit and said that India and US partnership is a partnership of trust in a true sense.
"We took part in a positive and useful Quad Summit today. India and US partnership in the true sense is a partnership of trust. Our common interests and values have strengthened this bond of trust between our two countries," Prime Minister Modi said during the meeting with Biden.
The Prime Minister said that India and the US share similar views on Indo-Pacific.
"We share similar views on Indo-Pacific, at the bilateral level as well as with like-minded countries to work to protect our common concerns. Our discussions today will give speed to this positive momentum," he said.
Speaking further, Prime Minister Modi said people-to-people ties and strong economic cooperation make India-US partnership unique. "Our trade and investment relations are also steadily on the rise but they are below our potential. I am confident that with the conclusion of the US Investment Incentive Agreement we will see concrete progress in investment between our two countries."
The meeting between Prime Minister Modi and Biden marks a continuation of their regular dialogue having interacted most recently in virtual mode on April 11. The two leaders are expected to review the India-US Strategic Partnership and follow up on discussions held during PM's bilateral meeting with President Biden in September 2021. They will also exchange views on regional and global developments of shared interest.
This meeting comes after the fourth interaction of Quad Leaders since their first virtual meeting in March 2021, in-person Summit in Washington D.C. in September 2021 and virtual meeting in March 2022.
The Quad Summit provided an opportunity for the Leaders to exchange views about developments in the Indo-Pacific region and contemporary global issues of mutual interest.
The Quad summit witnessed the launch of a new initiative for continuous collaboration in the maritime domain, space, climate change, health and cyber security.